Whether you have heard the term monthly website package advertised and you are curious about what exactly it is, or you are just looking for a more cost-efficient way to get a quality website for your business then this article is for you. We will cover the in's and out's of what a monthly website package entails, all of its benefits, and how it compares to standard web design agency offerings.
A monthly website package is a fresh take on how to pay for web design and development services. Instead of paying a large upfront cost for a website to be designed and developed, you can now save that upfront capital and pay monthly for your website, and as an added value, the monthly packages will be bundled with other website-related services.
What's included in a monthly website package?
A monthly website package will include and encompass the normal charges for the design and development of the website. Then in addition to that it will be bundled with additional services and fees that users would normally have to obtain to keep their website running. These services include the domain name, hosting services, custom email services, and more.
At Digibot Web in addition to the design and development of your website, we also include support for all of your services, the maintenance and monitoring of your website, your domain costs and its renewals, hosting for your website, custom email addresses, and even development hours to be used for site edits and updates at your request.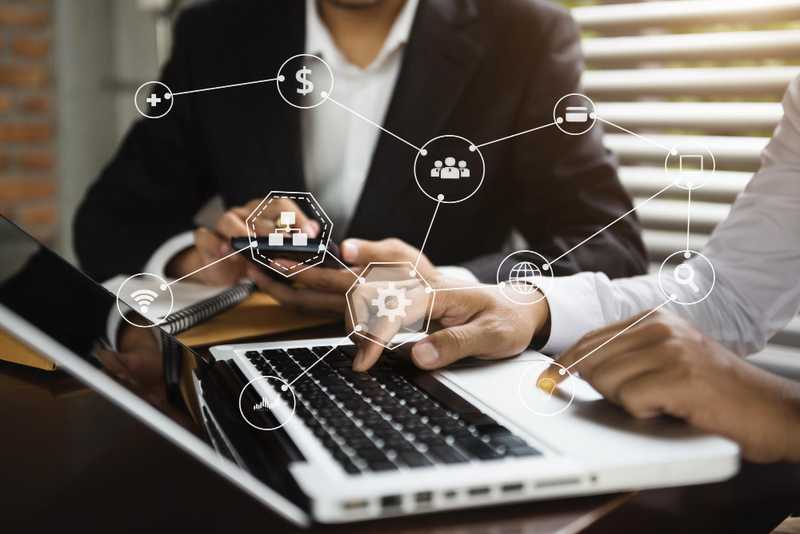 What are the benefits of a website package?
Monthly website packages are designed to save users time and money. Instead of having to pay for hosting, renewing domains, paying for email service, and paying for your website development all separately, it is all now combined into a single convenient monthly payment. Not only does a monthly website package create convenience when it's time to pay for your services, but when something goes wrong and you need support, who do you call? The hosting service? Is it a DNS issue with the domain? Email issues? A website bug? Digibot Web's monthly website packages allow you to have a single point of contact to handle any of your questions, concerns, and issues no matter which service is causing the issue.
Another benefit of having a monthly website package is that you are not on your own to have to identify an issue and figure out support because we will be monitoring your website 24/7 and making sure everything is in optimal running order before you even notice that there was an issue. By paying monthly for a website package you are not left alone to manage your website, you are gaining experienced web professionals to be at your site day and night.
All of the services included are designed to save you time to let you keep your focus on what you do best which is to grow your business, but pay monthly website packages are also designed to save you money. As a small business ourself, we understand that working capital is important, and investing thousands of dollars upfront for a quality website that can bring your business results can often be a big hurdle for small businesses. With no upfront costs and an affordable monthly payment, businesses can keep that working capital inside their business while also starting to benefit from the results of a results-driven website.
How does a monthly website package compare to standard web design agency offerings?
The standard offering from most web design agencies will involve a cost for your website which will usually range between $2000 and $6000. There are certainly some agencies that charge much more, but this is generally the average range. Normally you would need to pay anywhere from 25% - 50% of this in the form of a non-refundable deposit before any work is done. The rest of the balance will be due by the time the website is finalized and before it is handed off to you. One advantage of paying upfront is that the website design, code, and assets are 100% yours once your balance is paid compared to a monthly website package where this may not always be the case. At Digibot Web we do take this into consideration and our ownership policy on our monthly website packages states that after 12 months the website is now considered 100% yours.
One of the major differences between standard web agencies and pay monthly web agencies, once the site is completed the transaction is usually completed with standard agencies. You will be responsible for hosting, domains, maintenance, backups, and troubleshooting any issues should they arise. With a monthly website package, this is quite the opposite, as we are there with you for all of your website needs to handle anything that may arise. We are here for any questions you may have, site update requests, and to provide you with monthly analytics reports so that you can track your website's progress and success.
The other major difference is how you pay for your web design and development costs. With a monthly package you can keep your working capital in your business instead of spending thousands upfront on your website. Your design and development costs are all factored into your monthly website package price.
The last major difference is the monetary risk that is involved with choosing possibly the wrong web design agency. There is always a possibility that you may not be happy with the design choices or direction and it may be past the point of being redeemed. With a standard agency, you are now risking losing, at a minimum, your initial deposit if not more depending on the stage of when the unresolvable issues arose. With a monthly website package, we do not have a minimum contractual term for your package. We do this because we believe our business relationship should continue and grow because you are happy with our service and results and not because of a contractual obligation to do so. If for any reason you are unhappy you are free to leave since our agreement is on a month-to-month basis.
Conclusion
So as you can see while there are many advantages of a pay monthly website package, I would still not consider it the right fit for every business. It is however another great option that we are proud to offer to help fit the needs of the businesses it can benefit. For larger businesses with marketing departments, or IT employees that may have some experience with hosting and website maintenance, it may not be the right fit, but for a small business that does not have these types of employees but is looking to grow, it is a great option. Digibot Web would love to be your business's new web design department by utilizing our expertise to help grow your business's web presence and customer base.